For the last few months, Carl and I have really had some big financial hits which have been hard to take.  This last week has been a continuation of those hits, but through it all the Lord is continuing to remind me that He is the one who always provides for everything we need.  I have to keep reminding myself that He is over all things, in all things, and nothing comes into our lives which has not passed through His hands.
Our Financial Hits
Less than 3 months ago, I wrote a blog about our Suburban which we loved.  The engine died in it which put us in a position to make a huge decision as to whether or not to fix it.  It was probably about a $10,000 loss for us not to mention the money we had to put towards getting another car.
We were informed this week that our daughter's car needed a new transmission due to a problem Toyota knows about but have decided to not recall yet.  The cost of the transmission almost totals the value of the car again.  This would be about a $5,000 loss.
I have to admit I was kind of a hot mess last week when I found out.  I called Carl with lost of questions.  As I asked him question after question, he just remained calm and reassured me, "There really is nothing we can do about it."  He was right.  It was a situation I did not like in the slightest, but what was I going to do other than to deal with it.  I really had no other choice.
I love how the Duggers have a motto where they say, "Just do the next right thing."  So, that is how we walked through this week.  We just tried to do the next right thing when we came to a decision.
Our dishwasher has been leaking water onto our kitchen floor very intermittently for about a month.  It began to do it every time we did a load this week.  The dishwasher is original to the house, and Carl has always complained about how it was configured.  We have hard wood floors in our kitchen so we knew we would have to get a new dishwasher asap.
Then, I had been hearing an intermittent clinking sound coming from my washing machine when it would go into the spin cycle.  I wondered if a screw had gotten loose.  I ended up running a load this weekend which didn't drain.  Then, I ran another cycle to drain the water out.  Even more water collected, and it didn't drain the second time either.
We had in the space of a week a possibly totalled car, a leaking dishwasher, and a washing machine full of standing water.  I told Carl I couldn't handle any more financial hits.  The truth was though I could handle it, but I just needed to trust God to provide for us.  I needed to thank Him no matter what situation we were in.

How the Lord Provided
It is comforting that I have been a Christian for long enough to look back to see that the Lord has always been faithful.  There will be times when it will rain, but God is always there to provide the umbrella or the boat depending on if it is a sprinkling or if it is a flood.  I know He is the Giver of all good things, and that is why I want to share today how He has provided even in this storm.
We decided to fix the transmission and then flip the car to be able to recoup any money we had spent on the transmission.  Hopefully, we can make just a little bit of a profit.  We had a number in mind of what we might be willing to front Madison for her to pay us back for another car.  As only God can do, a friend of mine from church is going to be selling their car.  The purchase price might be exactly where we need to be for another car.  What a blessing!
Another friend came up to me at church on Sunday and asked what my shoe size was.  I told her I wore a size 9.  She had been to a clothing swap that weekend and had picked up a size 7 gray Converse shoe.  She discovered when she got home that it was a men's size 7, not a woman's size 7.  I can wear a men's size 7.  In a twist that can only be God, I have passed up a pair of gray Converse shoes twice at the mall which I wanted over the last few months.  Talk about a little blessing!
Carl and I went to get a new dishwasher this weekend.  I said, "I can't take any more financial hits."  I very quickly rephrased that sentence so it was actually true.  "I don't want any more financial hits, but if God allows it to come into our lives, then we will face it as it comes with His help.  He will provide."  We were able to shop around and get a dishwasher with free installation and delivery which saved us $160 and got a $75 rebate which we will use to buy a new Blu-ray/DVD player.  Ours has been on the fritz for almost a year.  That was a unexpected blessing too!
Then, we got home and spent hours on the washing machine.  We had to get all the clothes out of the washer first and rinse them in the bathtub.  I had to wring them out to even be able to put them in the dryer, because they were so wet.  Second, we had to get the water out of the washer using buckets and towels.  We disconnected the drain hose thinking the drain hose was clogged, but it wasn't.  We took the back panel off and watched some YouTube videos.  One guy said he had heard a clinking sound before his washer wouldn't drain.  It ended up being a quarter which had drained down into the drain pump.  We watched some videos on how to disconnect everything and sure enough there was something in the drain pump.  A metal tag from my swimsuit was in the drain pump!  Carl fished it out with his finger.  We put everything back together and now the washer works.  That video probably saved us $200.  Another huge blessing!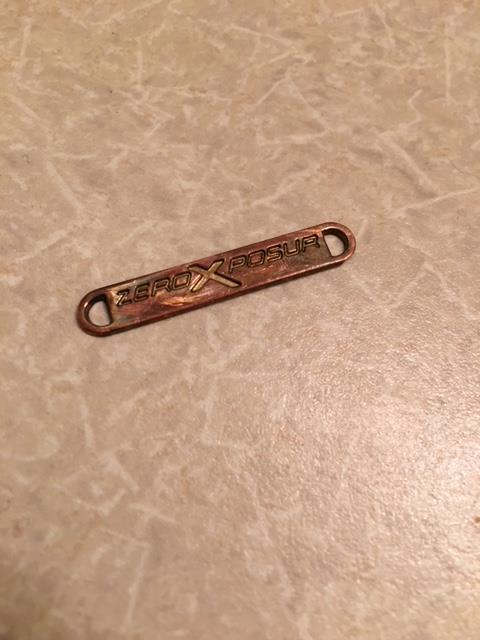 The tag from my swimsuit!
Everything in life is not going to be rosy.  I want it to be, but it won't be.  1 Peter 1:7 (NLT) says, "These trails will show that your faith is genuine.  It is being tested as fire tests and purifies gold – though your faith is far more precious than mere gold.  So when your faith remains strong through many trials, it will bring you much praise and glory and honor on the day when Jesus Christ is revealed to the whole world."
We can remain faithful even when trials come.  He is Jehovah Jireh which means "the Lord will provide".  God has not left us or forsaken us.  True faith and character is revealed when the heat and pressure are on, not when things are going smoothly.
I don't like all of these financial hits, but I know my God is bigger than a dishwasher or a car.  I will not be taking any car, any money, or any material possession with me when I go to Heaven.  I am going to cast my eyes on the unseen rather than the seen (2 Corinthians 4:18).
"But we have this treasure in jars of clay, to show that the surpassing power belongs to God and not to us.  We are afflicted in every way, but not crushed; perplexed, but not driven to despair; persecuted, but not forsaken; struck down, but not destroyed;"
2 Corinthians 4:7-9, ESV