Well, this was surely an eventful week to say the least.  Just another reminder in our lives that God is in control, and one doesn't always know how things are going to play out.
Carl left to go on a trip last Monday, and I was home with the kids.  I usually go to get coffee on Tuesdays, because it is double punch day which means I can get a free coffee after only 5 punches instead of 10.  When it comes to coffee, I like to think ahead.  You know how it is.
Anyway, my change engine oil reminder light had come on in my vehicle which is just a manually set reminder they reset every time I get an oil change.  I still had well over 1,000 miles before my oil change was due, but I had Carl check the oil in the week or so prior to be sure it was OK.  He had added a little to top it off, but it seemed fine otherwise.
However, as I sat in the coffee line for my coffee, the actual oil light came on with an alarm accompanied by flashing lights which told me the oil pressure was low and to turn off the vehicle immediately.  I pulled the car over and had the ignition turned off within 30 seconds.
I got out of the car and checked the oil several times, but the oil level was fine.  After calling Carl who was out of town training 2 new guys with his company, he confirmed I should not drive it.  I called a tow and had it brought to the dealership.  After about 24 hours of them looking at it to find the problem, we were told the engine was basically shot and the only thing my poor Suburban needed was a new engine which costs almost as much as the Suburban was worth.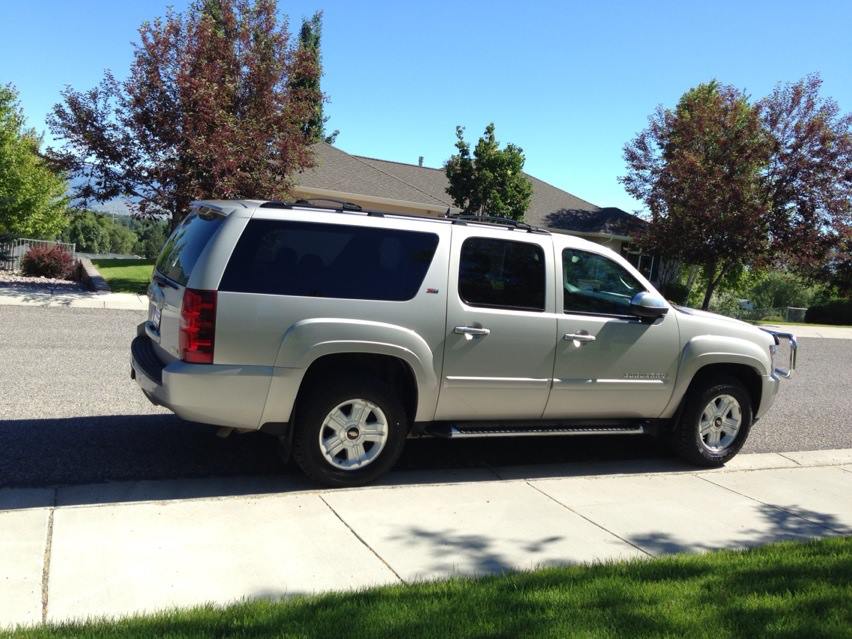 My Suburban 🙁
I probably haven't said this yet, but I love my Suburban.  I really do.  It is my favorite car I have ever had.  The thought of having to let it go was pretty sad for me not to mention the huge financial hit.  I woke up in the morning believing I had a car which was worth $10,000 let's say to the end of the day having a car which might only be worth parts.  It was a little much.
I had a lunch date with a friend on Thursday, and I was asking if she would pray for us as we made the decision on whether to fix the Suburban or get another car.  I remember I told her, "I had plans to run that car into the ground until it couldn't run anymore."  She said very matter of factly, "You did."  Yes, true words.  That is what I wanted to do, and that is what I had done.
So, after a week of car shuffling, lots of prayer, and thoughtful lists of pros and cons, we decided to say goodbye to the Suburban and hello to a used Tahoe.  This incident helped Carl and I both to see that we are probably in a new phase of life which is shrinking, not expanding.  We realized the reality that I probably wasn't the Suburban mom anymore.

I really have just loved my Suburban.  We have affectionately called it the tank all of these years.  I really wanted the same car, but just smaller.  The Tahoe was even made in Texas which Nathan thought must be a sign that it was meant to be.
Another situation happened in our family this weekend too which was just a good reminder that you can't put your hope in material possessions.  You can't take any of it with you.  One morning you wake up with what you think is security and by the end of the day it is gone.
Just such a great reminder that nothing is guaranteed.  Jesus is the only one who we can count on.  The only one who will never leave us or forsake us.  The only one we can find our security in.
Nathan came in the kitchen tonight when I was making dinner and read to me a verse which he had been reminded of today.  It was Job 1:21 (ESV) which says, "…'Naked I came from my mother's womb, and naked shall I return.  The Lord gave, and the Lord has taken away;  blessed be the name of the Lord.'"

God has taken away this week, but we trust him to give us what we need when we need it.  I am probably going to get better gas mileage in the Tahoe, and I will surely have more room in my garage.  The Lord has taken away, but He is faithful to give us good things as well.  Blessed be the name of the Lord.
"…The Lord gave, and the Lord has taken away…" 
Job 1:21, ESV