You're a mean one, Mr. Grinch.  At least that is what the song says.  This movie shows a more mildly mean Grinch.  Some purist might not like that, but I have to say I kind of liked it.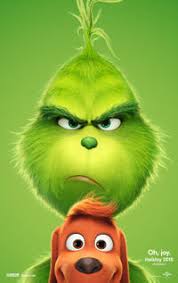 Very early on in the movie, the Grinch is forced to go into town to get some groceries, and it is only a few days away from Christmas. As he walks into town, a choir is singing Hark The Herald Angels Sing.
This choir does not just sing this song in the background unnoticed as Grinch walks into town, but the song becomes front and center for at least 2 full verses of the song. The verses which say:
Hark! The herald angels sing, "Glory to the newborn King! Peace on earth, and mercy mild, God and sinners reconciled."
The movie details past trauma with Christmas day as the reason for his disdain of the holiday. So, Grinch decides if he steals Christmas, then he won't have to deal with his painful memories anymore.
At one point, he looks into a window at a room full of Whos who are making merry. He looks at them at first with distaste and then with longing. The song Silent Night plays prominently inside. Again, it is not a background song, but a prominent song in the movie.
Other aspects I loved about the movie were kindness, thinking of others over yourself, friendship, asking for forgiveness and making amends for your wrongs. I also thought it was great that they considered putting clothes on this Grinch. It was not as awkward as Jim Carrey's version of the Grinch where he is walking around with no clothes on. Just saying!
Is this a Christian movie? Absolutely not, but I was pleasantly surprised that Christ still remained in a secular Christmas movie. Imagine that! It was like a Christmas miracle.
The only negative of the movie (in my opinion) is that they did not recite the best line of the whole Dr. Seuss' The Grinch poem which is, "What if Christmas, he thought, doesn't come from a store. What if Christmas perhaps means a little bit more." I kept waiting for it, but it never came from what I heard.
Overall, our family would highly recommend it. It was not as scary or crude as the Jim Carrey version of the Grinch and has some really redeemable qualities. It is very rare that Carl and I will walk out of a movie theater and say we want to buy the movie when it comes out. We both agreed in the car that we would be buying this one.
Interested in reading about a Christmas miracle? Read A Christmas Miracle.