When I was a teenager, I ate the most amazing shortbread Christmas cookies which were covered in powdered sugar.  I have never been able to duplicate those cookies until I tried this recipe.  It sure is a keeper!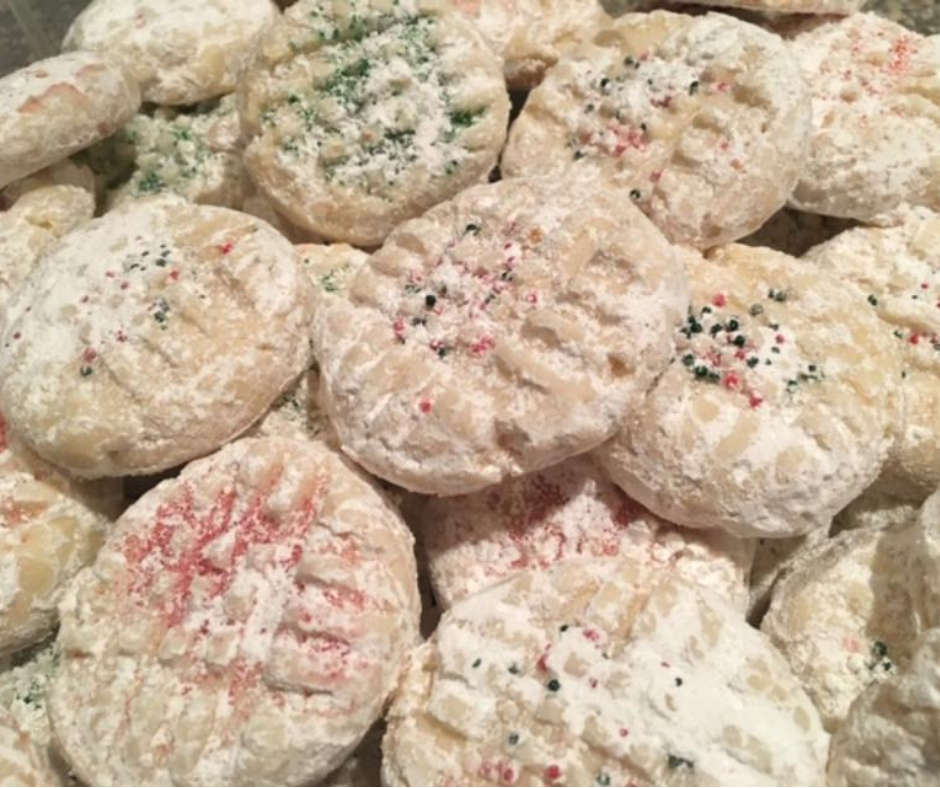 Christmas Shortbread Cookies
INGREDIENTS
3 cups (6 sticks) softened salted butter
2 1/2 cups confectioner sugar (DIVIDED)
4 1/2 cups flour
1 1/2 cups corn starch
DIRECTIONS
Preheat oven to 300°.  Cream butter and only 1 1/2 cups of the confectioner sugar together.  Make sure to reserve and set aside the other 1 cup of confectioner sugar for the final step of this recipe.  Beat the flour and the corn starch into the butter and sugar mixture.  Using a cookie scoop, roll into small round balls and place on ungreased cookie sheets.  Press a criss-cross pattern in each cookie with the tines of a fork dipping in water, if needed, to help the fork not stick to the dough.  Sprinkle with Christmas colored nonpareils or green and red colored sugar and bake in a 300° oven for 20-22 minutes.  Let cool slightly.  Pour 1 cup of confectioner sugar into a gallon size plastic resealable bag.  Place 2-3 cookies in the bag at a time and shake to coat with sugar.  Shake each cookie gently in your hand before taking out of the bag to shake off any excess confectioner sugar.  Store at room temperature in a sealed container.  Makes about 5 dozen.  
TIP
I find that the sugar sticks best to the cookies when they are not too hot from the oven.  If the cookie is too hot, it can make the cookie sweat, and the sugar could get soggy on the cookie.  However, I find if the cookie is too cool the sugar doesn't stick as well either.  So, I like to coat them when the cookies are slightly cooled or still barely warm to the touch.  Not hot!
Interested in another Christmas recipe? Try Egg Nog French Toast.