Are you are tired of the same old holiday dessert recipes?  Well, give this ooey, gooey pumpkin one a try.  I promise you will not be disappointed.  It is also very simple and easy to prepare.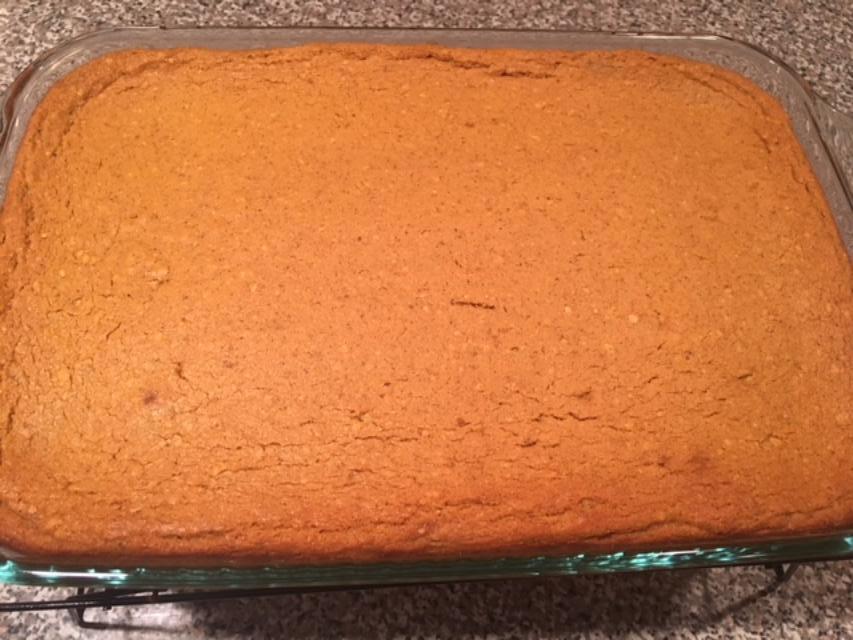 This is a recipe I got from my brother back in 2003.  My brother is an amazing cook, and this recipe is no exception.  It is a staple most years at our Thanksgiving or Christmas dessert table.
An ooey, gooey pumpkin cake which will melt in your mouth.
Ingredients
*Cake
1 (18 1/4 oz) package yellow cake mix
1 egg
1 stick salted butter, melted
*Filling
1 (8 oz) package cream cheese, softened
1 (15 oz) can pumpkin
3 eggs
1 teaspoon vanilla extract
1 stick salted butter, melted
1 (16oz) box powdered sugar
2 1/2 teaspoons cinnamon
1/2 heaping teaspoon nutmeg
Whipped cream (to serve on top)
Instructions
*To make the cake - Combine all of the ingredients and mix well with an electric mixer. Pat the mixture into the bottom of a lightly greased 13 x 9 inch baking dish. Prepare the filling.
*To make the filling - In a large bowl, beat the cream cheese and pumpkin until smooth. Add the eggs, vanilla and butter. Beat together. Next, add the powdered sugar, cinnamon, and nutmeg. Mix well. Spread pumpkin mixture over cake batter and bake for 50 minutes. Make sure not to over bake as the center should be only slightly gooey when removed from oven. All of the outer edges will look cooked with hairline cracks on the surface. Cool for at least 30 minutes before serving. Serve with whipped cream. Store leftovers in refrigerator.
Notes
Please add 30 minutes to the total time for cooling.
https://thecrosseyedblog.com/pumpkin-gooey-cake/
Serving tips
*This cake is really best served warm.  Refrigerating leftovers is required, but I recommend warming up the chilled cake in the microwave for 20-30 seconds  when eating leftovers.
*I also like to add a little sprinkle of nutmeg on my whipped cream to give a little added yummy goodness.
Interested in another delicious cake to make for the holidays?  Try Coconut Cake.