There are just those times in life when you feel like God is trying to get your attention.  It is kind of like with you have a child, and you spend so much time repeating the same thing over and over again.  You wonder if they will ever catch on.  I wonder if that is how God feels with me sometimes.

I have been thinking about and wanting to start doing some scripture memorization again.  My friend, Anita, and I used to memorize one scripture verse a week.  We could pick out any verse that we wanted.  On Fridays, we would call each other and recite the verse we had memorized to one another over the phone.  I cannot tell you how many times I took her verse or she took mine to memorize for the next week.

I will say when I remember scripture verbatim, it is usually one of the scriptures I learned when I was doing it with Anita.  There was accountability there so I couldn't cop-out, not call or flake out.  We did eventually fizzle out after about a year or more, but it was really such a productive time for me.

Psalm 119:15 (NIV) says, "I have hidden your word in my heart that I might not sin against you."  When you have God's Word in your heart, it is easier to speak truth to yourself and others in the hard times.  It is easier to see and understand the truth when it is presented or whether it is a lie if we have God's Word written in our hearts.

I am currently in the process of trying to get my Biblical Counseling Certification.  There are so many scriptures I would like to memorize which will be used over and over again as is the nature in counseling, and I would just love to have a lot of those scriptures memorized. 

Two or three times this week, I have come across the reference of being "mighty in the scriptures".  That verse comes from Acts 18:24 which talks about Apollos being an eloquent man, and the fact that he was mighty in the scriptures.  Stephen, before he was stoned to death, was speaking in front of the Sanhedrin, and he quoted the Old Testament from Deuteronomy to Isaiah to Amos by memory as he spoke to those men.  In fact, I love what it says about him in Acts 6:9b-10 (NIV) which says, "These men began to argue with Stephen, but they could not stand up against his wisdom or the Spirit by whom he spoke."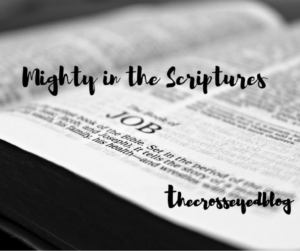 Are most of us mighty in the scriptures?  I imagine that the majority of us are not, but it would be good if we were.  If I am having a tough day, it is good to know that God will never leave me or forsake me as in Deuteronomy 31:8.  When one of my kids does not seem to be remorseful about what they have done, I can talk to them about the difference between Godly remorse and worldly remorse as in 2 Corinthians 7:10.

It can be debated on whether or not the verse is more important than the reference.  I have heard both sides of this argument.  While I do think both are important, I think the most important part is the verse.  Jesus quoted scripture to Satan and did not quote where it came from and neither did Stephen.  I will be memorizing both, but I just try to not be so hard on myself if I forget the reference, because I believe that the verse is the most important part.

So, how do we become mighty in the scriptures?  We have to read God's Word, meditate on God's Word, and memorize God's Word.  You can find a friend like I did who is interested in doing accountability in the area of scripture memory.  You can memorize a verse a week, or I have even had friends who memorized a chapter at a time with friends.  There is also a great app I heard about from a friend called "Scripture Typer" which helps you to memorize scriptures better and keeps track of your progress.  I think I am going to try out the app to see how it works.  Let's all be motivated to be mighty in the scriptures!


"And a certain Jew named Apollos, born at Alexandria, an eloquent man, and mighty in the scriptures, came to Ephesus. This man was instructed in the way of the Lord;  and being fervent in the spirit, he spake and taught diligently the things of the Lord…" 
Act 18:24-25, KJV