I have some big news!  Some of you may or may not have seen that my daughter, Madison, got engaged.  Can you believe it?  Be still my heart!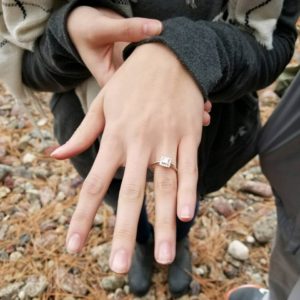 She has been dating a young man named, Jordan, for about a year.  They have been talking about marriage for a while which so far we have been able to encourage them to hold off for a little while until they are older and more ready financially.  So, they have slowed their marriage plans out till next summer.

Jordan came to our house to ask Carl's permission to marry Madison.  I heard a knock on the door and got up to see Jordan standing at the door.  I went to the door expecting to see Madison standing there which him, but she was not.  I could tell that Jordan for upset or shaken up about something.  I was actually worried in the moment that something had happened to Madison, and he had come to tell us.
I asked him where Madison was.  He said that he was there to talk to Carl about asking permission for Madison's hand.  I have to admit.  It was quite a shock to me.  My baby girl!  How could this be happening? 

Carl was actually not home, but was off hunting with his friend.  I knew he would not be home until dark, and we were a couple of hours away from dark.  Jordan and I started to talk, and we ended up talking for two and a half hours until Carl arrived home.  I asked him every question I could think of such as how he was going to provide for her, God's calling on his life, and how he was going to push Madison out of her shell when she wanted to be introverted.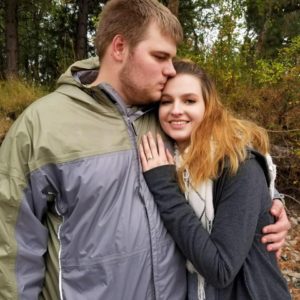 We talked and talked.  As we talked, I realized something which I had realized before as well, but I realized it in a more profound way than I had before.  There are some things which Jordan does which are a lot like Madison's dad, Carl.  He has the same tender heart like Carl has.

At some point in the conversation, I told him that he reminded me of Carl.  Jordan said that Madison tells him that all the time.  I was truly touched and thought it very endearing that Madison has gone out and chosen a future spouse who is like her very own daddy.

When Carl came home, he saw Jordan but also began to look around expecting to see Madison.  Carl said, "Where is my Madison?"  That is when Jordan told him why he was there.  Carl did give his permission after getting over his initial shock and after some more discussion.

Jordan did insist that he wanted to do Christian pre-marital counseling and financial counseling with Madison before they got married.  Carl and I wholeheartedly agreed.  Our pastor and his wife will be doing the pre-marital counseling, and Carl and I will be doing the financial counseling with the two of them.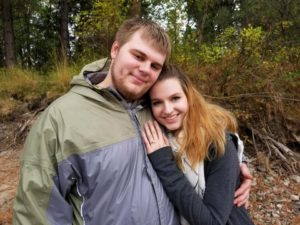 Are you ever truly ready for that moment as a parent?  I can honestly say I really didn't want to tell anyone about it right away, because it was too emotional for me.  I bawled like a baby after my brother got married, because it was the end of an era.  Here I am looking at another end of an era square in the eye. 

This has been a season of so much change with Madison from her graduating high school, moving out on her own, starting college and now getting engaged.  Last week I held her hands and gazed into her eyes.  I let her know it was just a lot of change in a short amount of time, and I was trying to catch up to where she was.  I just needed a little time.  

Would you join me in prayer for the next many months as they go through their counseling, wedding planning and the like?  I pray it will be a growing opportunity for both of them, and that they will always keep their eyes on Christ.  I pray that they will grow in their relationship with Him through this process.  

Will you please pray for the parents too?  Jordan shared with us last night that his mom has been crying a lot trying to get used the marriage idea.  I don't think I have cried, but it is a lot to wrap my head around.  I am excited about the wedding planning part, but sad about the approaching end of an another era.  She is my sweet Madison after all!


"Love is patient and kind, love does not envy or boast; it is not arrogant or rude.  It does not insist on its own way; it is not irritable or resentful; it does not rejoice at wrongdoing, but rejoices with the truth.  Love bears all things, believes all things, hopes all things, endures all things. Love never ends." 1 Corinthians 13:4-8 (ESV)