This recipe is so good it will make your tongue want to slap your brains out.  OK, maybe that is a little extreme, but let's just say that this recipe is super duper delicious. 

This is definitely a family favorite.  I got this recipe from a friend to use as a freezer meal.  You wouldn't think that pasta would make a great freezer meal, but this one really does.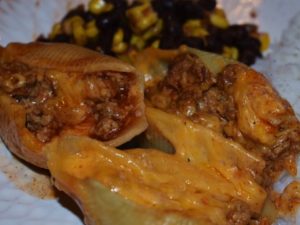 Taco Pasta Shells
1 envelope taco seasoning mix or 3 TBSP in bulk
4 ounces cream cheese, cubed
12 jumbo pasta shells, uncooked (plus a few extra for breakage)
In a medium skillet, brown ground beef and drain.  Return meat back into skillet.  Add taco seasoning and water.  Simmer taco meat for 5-10 minutes or until most of the water is absorbed/evaporated off.  Add cream cheese and simmer until cream cheese is melted and incorporated into the meat.  Remove meat from the heat.  Meanwhile, in a large dutch oven, cook jumbo shells in boiling water.  I usually add a few extra shells just in case some shells fall apart or break during cooking.  Cook according to package directions.  Drain the shells and return to pan with the butter.  Toss shells gently with melted butter until shells are coated.  Careful!  The meat and the shells will be hot, and now you have to stuff the shells.  I use a latex glove (not the powdered kind) to protect my hand from the heat.  Take a shell and add a heaping tablespoon of meat into each shell.  If you have extra meat left over at the end you can distribute more meat into each shell until all the shell are pretty evenly filled.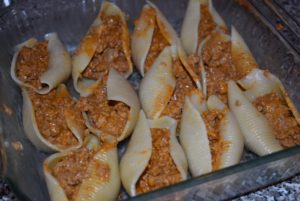 Place shells in a greased 9 x 9 baking dish.  Pour the enchilada sauce over the shells.  Top with cheddar cheese.  Bake at 350 degrees for 25-30 minutes or until cheese is melted and shells are bubbly.
Tips and Variations
You can use ground turkey instead of ground beef for a lower fat version.

You can use fat-free cream cheese instead of the full fat version.

You can serve this with an easy corn succotash type dish.  I drain and rinse a can of black beans, a drained can of corn, and 1 cup of salsa.  For the spices, I use cumin, salt, pepper, and garlic powder to taste.  I fry it up in a skillet until warm and bubbly.  Easy peasy!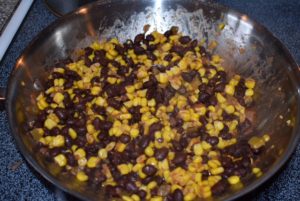 You can double this recipe.  One to eat that day and one to freeze.  This does freeze really well.  Let thaw overnight in the refrigerator and bake at 350 degrees for 30-45 minutes until bubbly.  It will need to cook longer due to being cool from the refrigerator.