This is one of those recipes, which I might venture to say, I have been given out the recipe more times than any other recipe I have.  Wrapped little smokies atop a sweet, nutty mixture is perfect for family and good enough for company.  It is such a great recipe to make for breakfast, brunch, or a breakfast potluck at church.  It does wonderfully to prepare the night before, refrigerate, and throw it in the oven in the morning to cook.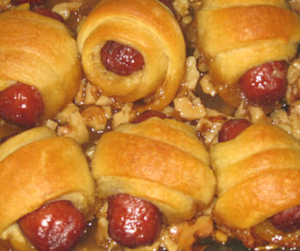 Preheat oven to 400 degrees.  Mix together melted butter, honey, and brown sugar in a 13 x 9 pan.  Sprinkle pecans on top of butter mixture.  Unroll crescent dough and separate into triangles.  Cut each triangle lengthwise into three triangles.  Open sausage link pack and place on paper towels.  Blot away any extra water or moisture off of the sausage links.  Place a sausage on the long end and roll up tightly.  Arrange sausage rolls, seam side down, in butter mixture.  Bake, uncovered, at 400 degrees for 15-20 minutes or until golden brown.
1/2 cup butter, melted
3 tablespoons honey
3 tablespoons brown sugar
3/4 cup chopped pecans
2 cans crescent rolls
1 whole pkg miniature smoked sausage links
Tips:  I like to use my rotary pizza cutter to cut the crescent roll dough.  It is very quick and doesn't stick.  You can also make it with no nuts if your family does not like nuts.  I love the nuts, because they get all sweet and toasty.  Enjoy!