This is a recipe I have had for a long time.  It may be even older than I am.  It just proves, in my mind, that this recipe has stood the test of time.  I hope you enjoy it as much as our family does.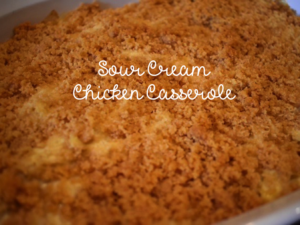 Sour Cream Chicken Casserole
1 can cream of chicken soup
1 tube of butter flavored crackers (I use Ritz.)
4 tablespoons of butter, melted
Place thawed chicken breasts in a large dutch oven filled 2/3 of the way full with water.  Sprinkle water with garlic powder, salt, pepper, poultry seasonings or any other seasonings, to taste.  Boil for one hour or until chicken is falling off of the bones.  Remove chicken meat from bone.  Be careful.  It will be hot!  Discard bones.  Cut or shred by hand chicken and place in the bottom of a 8 x 10 casserole dish.  Mix sour cream and chicken soup together and pour over the chicken.  Crumb crackers and mix with melted butter.  Sprinkle the cracker mixture on top of the chicken mixture.  Bake at 350 degrees for 30 minutes.
Tips
To reduce fat, use reduced-fat butter flavored crackers or reduced-fat sour cream.

You can use boneless skinless chicken breasts.  This is quicker, but you will lose flavor and tenderness which comes from the bone.