OK, I finally came into the land of the smartphone!  I didn't think I needed it necessarily, but I had gotten to where I kind of wanted it.  Mainly due to the fact that I would like to be able to listen to my music when I ran as well as have my phone with me.  Last year, as I trained for the half-marathon, I had my iPod strapped to my arm when I injured my Achilles tendon at mile 3.  It would have been nice to have had a phone too so I could have called my husband to come pick me up rather than limping the 3 miles back home.
There is nothing like a smartphone to make me feel like a dumb person, but I guess that is why they call the phone smart, right?  That being said, I can't help but admit that it is pretty cool.  There have been a few apps that I have really loved that I wanted to share.  You may know them, and you may not.  The first one especially has already saved me some money.
GeoQpons
was introduced to me by my dearest friend.  It has been such a fabulous app that I try to tell as many people as I can about it.  Geoqpons takes your geographical location and gives you coupons for your area.  The coupon comes right up on your phone so you can scan it at the register.  It will also show you sales which might be going on for different retailers.  The first month I had the app I saved about $20.  This month I have saved about $30.  This is on items I would have bought anyway.  The stores vary from home stores such as Lowes and Ace Hardware to home décor such as Hobby Lobby and Bed Bath and Beyond to restaurants such as Arby's and Quiznos.  It by far my favorite app.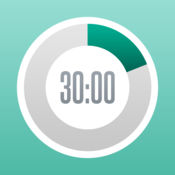 30/30
is a task manager.  I am in love with this app.  You can set up you own tasks and how much time you will spend on each task.  Being pulled in so many directions as moms and career women, it is a great way to limit and organize my time better.  For example, I have set up cleaning schedules for 30 minutes.  I set up my own tasks such as straighten for 5 minutes, sweep for 10 minutes, dust for 10, etc.  It will alarm when the first task is finished, and you should move on to the next task.  I have set up tasks such as paperwork (email, sorting through mail, bills, etc.) as well as cleaning and writing.  A task manager for a teenager who gets lost in the bathroom.  Hmmm, now there is a thought!
SoundHound is an app which will listen to any song, on the radio or in a restaurant, and tell you the song and the artist.  It gives you an option to download the song from iTunes if you would like to and also gives you the full lyrics to the song.  Pretty amazing stuff.
Bible apps for your phone might just be the best apps of all time.  How great is it that I can carry the Bible around on my phone and read it anytime.  When I am waiting for my child to get out of her orthodontist appointment or on a coffee break at work.  These apps allow you to look up books, highlight verses, and bookmark important sections.  No more excuses about reading God's word.
I would LOVE to hear from you to know what your favorite apps are.  I am still in the exploring realm, and I am sure there are many more out there that are beneficial.  God's blessings to you all.
"The beginning of wisdom is this: Get wisdom.  Though it cost all you have,
get understanding." Proverbs 4:7, NIV