This is a recipe I got out of a magazine for chocolate coffee cake, but it had a ton of added chocolate on the top.  It was a little too sweet and rich even for my taste so I modified it to meet my liking.  Chocolate with my coffee in the morning is right up my alley.  The cake is light and moist.  Lauren says eating one of these is like eating a chocolate marshmallow cloud.  This recipe is a keeper.
Chocolate Morning Muffins
Ingredients
1 (18.25 oz) package devil's food cake mix
1 (2 oz) package chocolate instant pudding mix
2 cups sour cream
1 cup butter, softened
5 large eggs
1 tsp. vanilla extract
Powdered sugar for dusting
Instructions
Preheat oven to 350 degrees. Beat first 6 ingredients at low speed with a mixer for 30 seconds. Continue to beat on medium speed for 2 minutes. Pour batter evenly into two greased and floured muffin tins. This should give you 24 muffins. Bake at 350 degrees for 20-25 minutes or until a wooden toothpick comes out clean when inserted in the center of each muffin. Let muffins cool completely. Muffin will fall a little bit in the center, but this is normal. Remove muffins from pans and dust with powdered sugar right before serving.
https://thecrosseyedblog.com/chocolate-morning-muffins/
​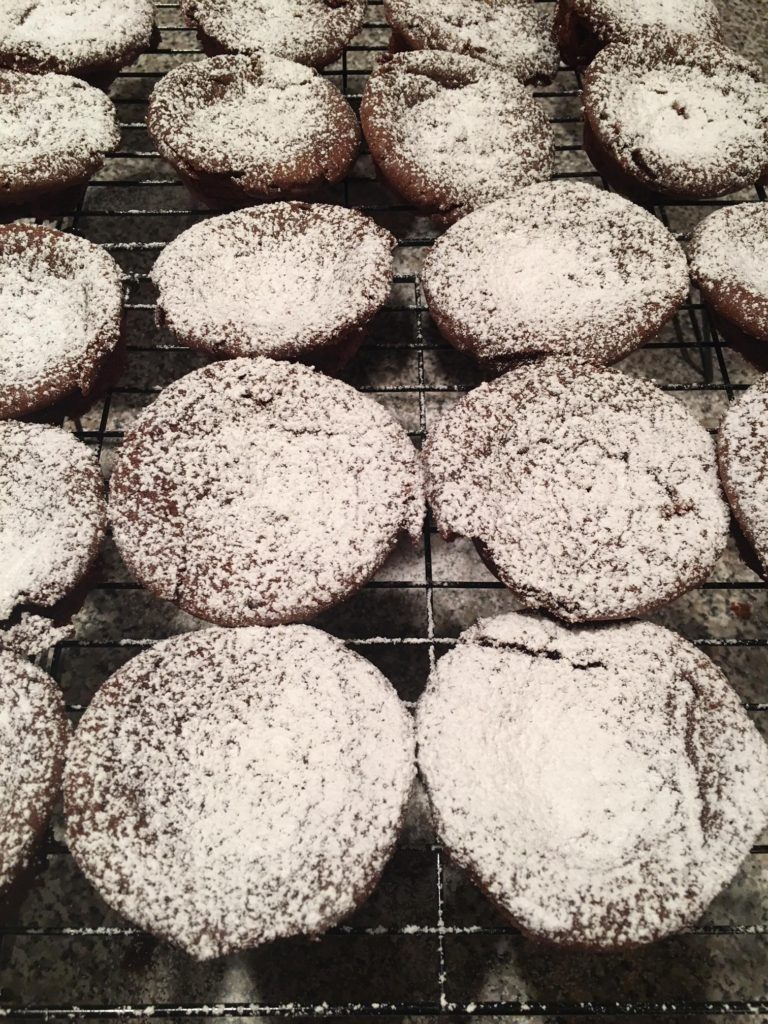 Variations
To make a lighter version, use light sour cream.  I did that this last time and could not tell the difference.  Adding a few mini chocolate chips or chopped pecans on the top of each muffin prior to baking would give these muffins a little extra something as well.
I felt like Billy Cosby when I first presented this to the kids for breakfast one morning.  Carl and I couldn't help but start to sing, "Mom is great.  She gave us the chocolate cake."
Is it really for breakfast or is it for dessert?  The world may never know.  Whatever the verdict might be, I say, "Let them eat cake!"