When I was about 4 years old or so, my parents took my brother and I to Disneyworld.  I remember sitting in the back seat and very often during the trip I would lean up to peer over the front seat where my mom and dad were sitting.  I would ask over and over, "We goin' to Disneyworld, ain't we Momma?" 

Last year, Carl and I decided we wanted to take the family on one last family vacation after Madison graduated high school.  So, we asked Madison where she might want to go.  She said Disneyworld.  We had taken all of the kids to Disneyworld one time before, but this time we decided on Disneyland since it is closer as well as wanting to see Universal Studios as well.

So, we saved and saved, and last week we headed out for our trip to California.  The whole family was back together again!  There is so much I want to share about our trip which would probably take 10 blogs to tell you about so I have decided to give a short recap of some of the highlights.  So, put on your seatbelt.  I would love for you to join us on our journey.
On day 2, we stopped in Daggett, California and took a picture with the family in front of the Daggett city sign.  When Madison was only 3 months old, Carl and I stopped and took a picture of each other while we held her under the sign so we thought it only appropriate to hold her under the sign again.  It truly was the highlight of this day.  She was a little heaver than she was last time I held her under that sign!
On day 2, we passed through Las Vegas and saw one of my favorite things.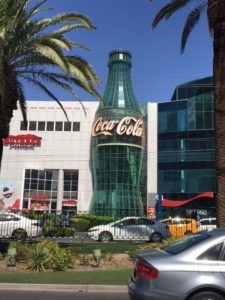 A giant Coke!

On day 3, we went to Disneyland.  It truly is such a magical place for kids.
The kids at Disneyland
May I make a suggestion if you have kids you would like to take to Disneyland or Disneyworld in the future?  Please do it by age 10 or younger.  Any older than that they lose the "awe" of Disneyland.  

We also went to Rainforest Cafe which the kids used to love to go on special occasions like birthdays, but Lauren never remembered going there so that was tons of fun for the kids.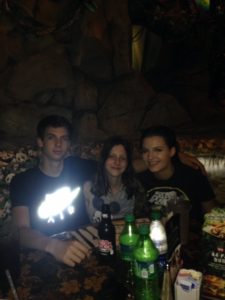 Nathan's shirt was sure reflective!
On day 4, we went to the beach.  My plan was to not only build in more restful days in between our amusement park days, but also to have a budget friendly day with low cost.  We ate out of the cooler, laid out, swam, built a sandcastle and the big kids shopped at the wharf with their own hard earned money.  We headed back to the hotel to change and wanted to head out to Medieval Times for the dinner and tournament.  However, when we got back in the car, the car would not start.  We had to take it in for repair which cost us $1500 and had to rent a car.  We were able to see God's grace even in this since we were in a safe place, it was a more relaxed day, and were able to reschedule our reservation at Medieval Times.  We were glad the car had broken down at the hotel rather than on the way back home in the Mohave desert!