My daughter, Madison, could sit and read a book for a whole day or play a video game for just as long and be totally content.  She is an introvert and is perfectly content to be by herself.  There were some Saturdays where we literally only saw her when she decided to come out of her room to eat something.
Carl did not understand this.  He said, "I would have hated to be in my room.  That would have been a punishment for me.  I would have wanted to be with my friends or hang out with my parents."  Nothing was wrong with Madison even though I would check in with her from time to time to make sure, of course.  She was, and still is an introvert, who was perfectly content to be by herself.  I understood her, because I myself would have been content if I had gone an entire weekend reading a book, taking a nap, or watching tv and not having to talk to a single, solitary soul.
Even though I understood her totally, I did one day tell her, "Jesus never intended for you to be an island.  It is not His design for us as Christians."  It is natural to be wired a certain way such as an introvert, but we miss out when we as Christians do not willfully engage with one another.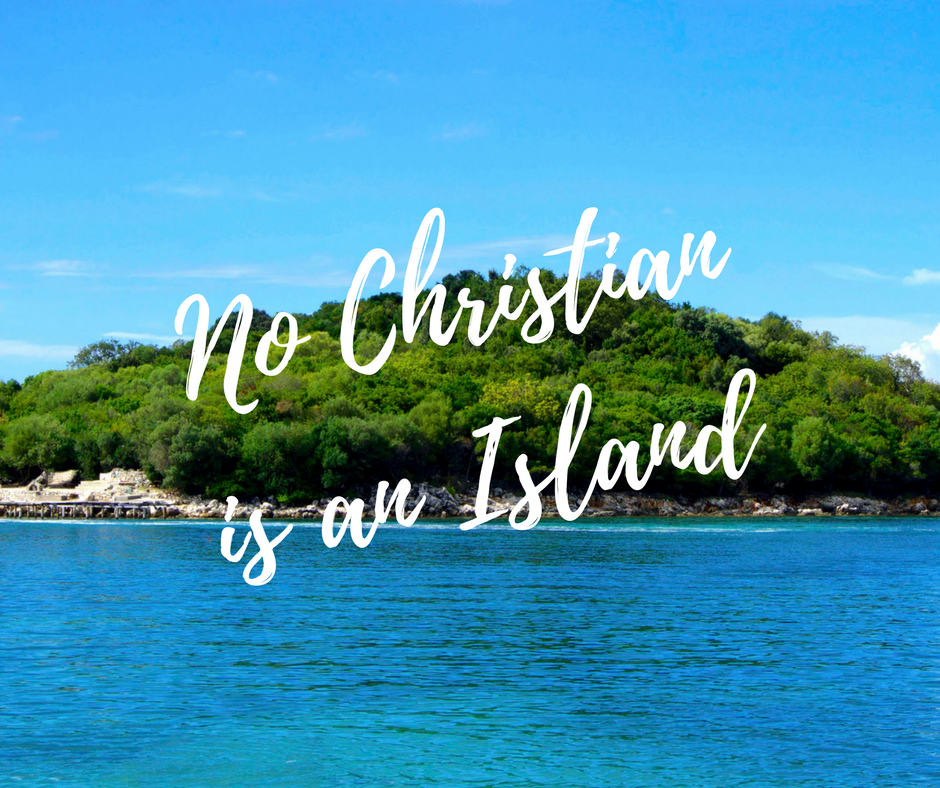 There is such a blessing which comes from being with other Christians.  Galatians 6:2 (ESV) says, "Bear one another's burdens, and so fulfill the law of Christ."  When we interact with one another and do life together, we are able to not only have the honor of bearing other people's burdens with them by encouraging them with words and petitioning God through prayer on their behalf, but we also get the benefit of them doing the same for us as well.
There is an old saying which says, "There is strength in numbers."  Ecclesiastes 4:12 (ESV) says something similar where it says, "And though a man might prevail against one who is alone, two will withstand him-a threefold cord is not easily broken."  Christians together are stronger, but a Christian struggling on their own can be taken down easier when they are by themselves.  Satan roams around like a lion seeing whom he can devour (1 Peter 5:8).  I learned a long time ago that Satan loves it when I feel all alone as a Christian.  When I truly open up honestly to other Christian peers about my struggles, failures, sins, etc., there is hope and prayer and love.
Paul cautioned believers in Hebrews 10:24 (ESV) to "not neglect to meet together, as is the habit of some, but encouraging one another, and all the more as you see the day drawing near."  I have heard many people say, "I don't go to church.  We have church at home."  That might be true for some, and I think for others they probably don't do church at all.  There are definitely circumstances where someone might not be able to attend a church with other believers such as missionaries where there is no church around or someone who is disabled.  However, when someone says this to me, I think of this verse.  When we are not plugged in to a local church, you are not bearing anyone's burdens, and no one is bearing yours.  You are not being sharpened by other believers (Proverbs 27:17).  You are not being encouraged by others.  You are not being prayed over or healed.  The body of believers is a beautiful thing.
According to Tim Maurer in an article called Horse Sense, a single draft horse can pull a load of 8,000 pounds.  Two draft horses pulling together do not pull double the weight or 16,000 pounds, but rather 24,000.  When we are yoked together with other believers in Christ to do His work, we could do exponentially more together than we could do alone.
Are you on an island today, but are ready to get in the boat and ride to the shore?  Find a local church Bible believing church and plug in.  Ask a Christian friend over for coffee.  Make a step to join and do life with other believers by joining a Bible study group.  Don't be afraid!  It can truly be a blessing for you as well as for others!