This recipe is simple enough for a quick weeknight meal but fancy enough for a Sunday lunch with friends.  This is truly a family favorite of ours, and I hope you enjoy it as much as we do!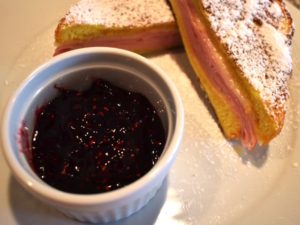 Monte Cristo
12 slices of Texas toast (This makes 6 sandwiches.)
1 lb thinly sliced deli honey ham
3/4 cup salted butter, softened
1 1/2 TBSP Dijon mustard
6 slices Swiss cheese
6 eggs
1/2 cup milk
Confectioners' sugar, garnish
Raspberry or strawberry preserves, optional (I use raspberry.)

In a small bowl, combine the butter and Dijon mustard together.  Lay out 12 toast slices.  Spread butter mixture onto only one side of each slice of bread.  Divide ham slices onto 6 pieces of bread.  Place Swiss cheese on top of ham.  Cover each with the remaining bread slice making sure to put the buttered side on the inside of the sandwich, not the outside.  

In a shallow dish, beat the eggs and the milk together.  Dunk each sandwich into the egg mixture like you would French toast.  I dip it about 3 seconds on each side of the sandwich.  Too little dipping makes a dry sandwich.  Too much dipping make for a soggy sandwich.  

Cook on a hot greased griddle or skillet for 4-5 minutes per side.  You will know the sandwiches are done when they are golden brown and the cheese is melted.  Cut sandwiches into triangles and sprinkle with confectioners' sugar.  Dip sandwiches in raspberry preserves for an extra sweet treat.