The story of the original sin which happened in the Garden of Eden with Adam and Eve is such a rich section of text.  If we could only understand the layers involved in this first sin, it can help us understand why we ourselves sin and why other people in our lives sin as well.  The reasons why Eve sinned for the first time in the garden are still the same reasons we sin today.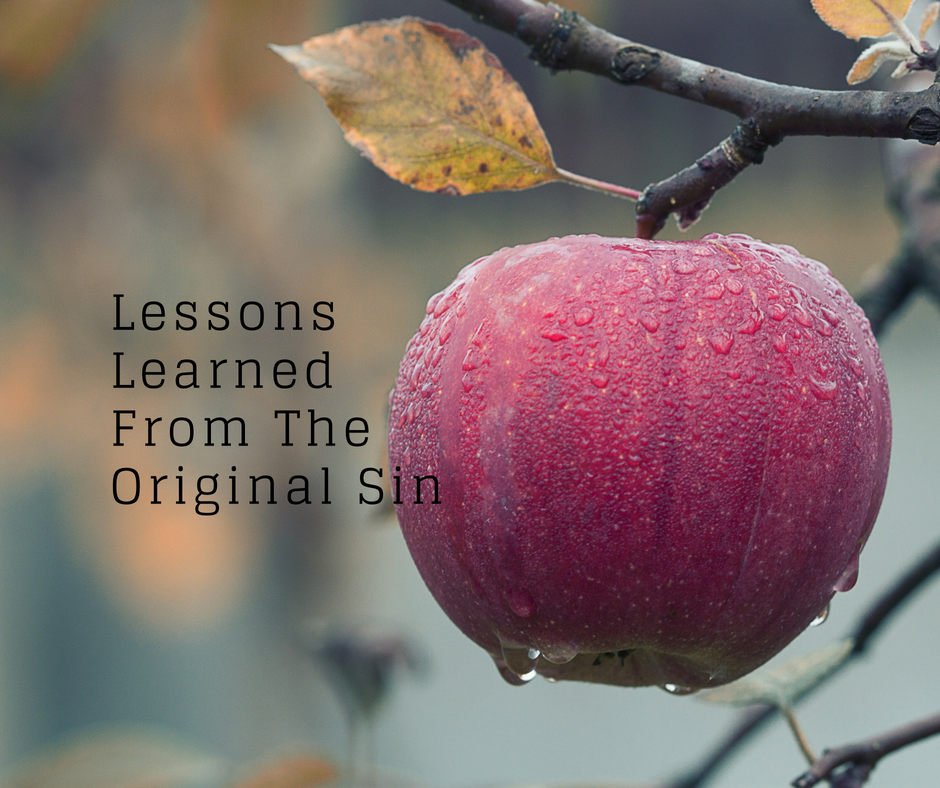 First, let us read the text.
1"Now the serpent was more crafty than any other beast of the field that the Lord God had made.  He said to the woman, 'Did God actually say, "You shall not eat of any tree in the garden"?'  2 And the woman said to the serpent, 'We may eat of the fruit of the trees in the garden, 3 but God said, "You shall not eat of the fruit of the tree that is in the midst of the garden, neither shall you touch it, lest you die."'
4 But the serpent said to the woman, 'You will not surely die.  5 For God knows that when you eat of it your eyes will be opened, and you will be like God, knowing good and evil.'  6 So when the woman saw that the tree was good for food, and that it was a delight to the eyes, and that the tree was to be desired to make one wise, she took and ate, and she also gave some to her husband who was with her, and he ate.  7 Then the eyes of both were opened, and they knew that they were naked.  And they sewed fig leaves together and made for themselves loincloths." Genesis 3:1-7, ESV
Be careful who you surround yourself with.
I think it is interesting to note that God made the serpent (v1), and the serpent was in the garden with Adam and Eve. God also made our friends and co-workers which we may have interaction with on a daily basis.  Some people are good for us, and some people are not so good for us.
The Bible says that "bad company ruins good morals" in 1 Corinthians 15:33 (ESV).  Proverbs 12:26 (ESV) says, "one who is righteous is a guide to his neighbor but the way of the wicked leads them astray".   Be watchful of who you are hanging out with.
Be careful to not be deceived.
Eve knew what God had said (v2).  The serpent's job was to cast doubt on what the God had really said (v3).  Today, the same thing happens.  Many take the Bible and try to twist it to make it not appear to mean what it really means or say what it really says.
If you hear something like a different point of view or hear a new idea, please test it against the scriptures.  2 Timothy 3:16 says God's Word is "profitable for teaching, for reproof, for correction, and for training in righteousness".  Find out what the Bible has to say about the subject you are wondering about.  Also, pray against temptations in your life (Matthew 6:13, 1 Corinthians 10:13).
Be careful of your own desires.
Once the serpent deceived Eve, she decided to act on her own thoughts and desires (v6).  The serpent did not make her do it!  She looked and saw the fruit looked good.  It was a delight to her eyes.  The most important thing to me about these verses is that she saw "the tree was to be desired to make one wise".
The gist of this for Eve is that she wanted to be like God.  She wanted to be wise like God.  We all desire in the flesh to be our own boss and to make our own way.  We don't want rules or limitations!  Eve was no exception to this.  I like to say, "We all want what we want".  Sometimes that want leads us to sin against God.
"Let no one say when he is tempted, 'I am being tempted by God,' for God cannot be tempted with evil, and he himself tempts no one.  But each person is tempted when he is lured and enticed by his own desire.  Then desire when it has conceived gives birth to sin, and sin when it is fully grown brings forth death." James 1:14-15, ESV
Don't lead others into sin.
The first thing which Eve does after she sins by taking her first bite of fruit is that she give it to her husband to eat (v6).  This goes along with the first point again which states be careful who you surround yourself with.  Eve went from the one who was tempted to the one who tempted someone else.
There are actually more in depth probings you can do into this particular text which are interesting such as Eve adding that they were not supposed to "touch the tree" which God never said in chapter 2.  As interesting as some of these other parts are, today I wanted to talk about the aspects of sin.  Many people wonder why they sin, why other people sin, or why people sin against them.  It is as simple as James 1:14-15.  We are tempted and draw away by our own desires.  We want what we want over what God wants for us.  It is that simple.
"Do not be deceived, my beloved brothers (or sisters)." James 1:16, ESV