Jump to recipe
This week's original recipe is from The Ultimate Southern Living Cookbook.  If I had to count out on one hand my favorite cookbooks, this one would be one of my five favorites.  With a few minor tweaks, I have been able to make a very low fat version of these blueberry muffins.  You can make these in regular size muffin tins, but I decided to make the mini version this time.  I thought it might make it easier for the kids to pop them in their mouths in the morning before they headed out the door to school.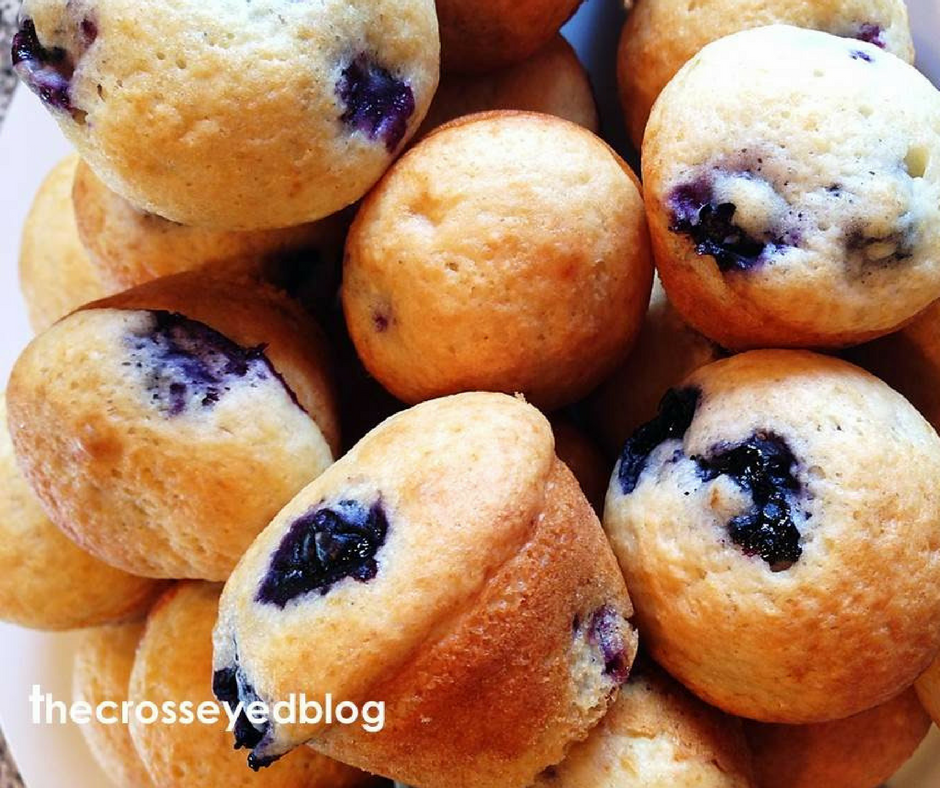 Ingredients
1 3/4 cups all-purpose flour
2 3/4 teaspoons baking powder
3/4 teaspoon salt
1/2 cup sugar
2 teaspoons grated lemon rind, optional
1 large egg
3/4 cup milk
1/3 cup apple sauce
1 cup fresh or frozen blueberries
1 tablespoon all-purpose flour
1 tablespoon sugar
Instructions
Combine first 5 ingredients in a large bowl; make a well in the center of the dry ingredients. Put egg, milk, and apple sauce in the well and stir just until ingredients are incorporated and moistened. Do not over stir.
Combine blueberries, 1 tablespoon flour, and 1 tablespoon sugar, tossing gently to coat. Fold blueberries gently into the batter. Spoon into greased muffin tins, filling about two-thirds full.
Bake at 400 degrees for 18-20 minutes or until lightly golden brown. You may need to shorten the time for miniature muffins or lengthen the time if you are using unthawed frozen blueberries.
© 2023 Copyright
Additional Comments
The original recipe called for vegetable oil instead of apple sauce.  It also had a cinnamon streusel topping which is 1/4 cup sugar, 2 1/2 tablespoons all-purpose flour, 1/2 teaspoon ground cinnamon, and 1 1/2 tablespoons butter or margarine.  Combine dry ingredients and cut butter in with a pastry cutter and sprinkle mixture over the top of the muffins prior to cooking.  The recipe will not be low fat anymore, but it is very yummy that way!

This recipe is a great make ahead recipe.  Just freeze pre-made muffins to pop out on busy mornings or for company.