Jump to recipe
The Huckleberry Scones I make are super simple, and they always get rave reviews.  Topping the scones with huckleberry icing makes them even better!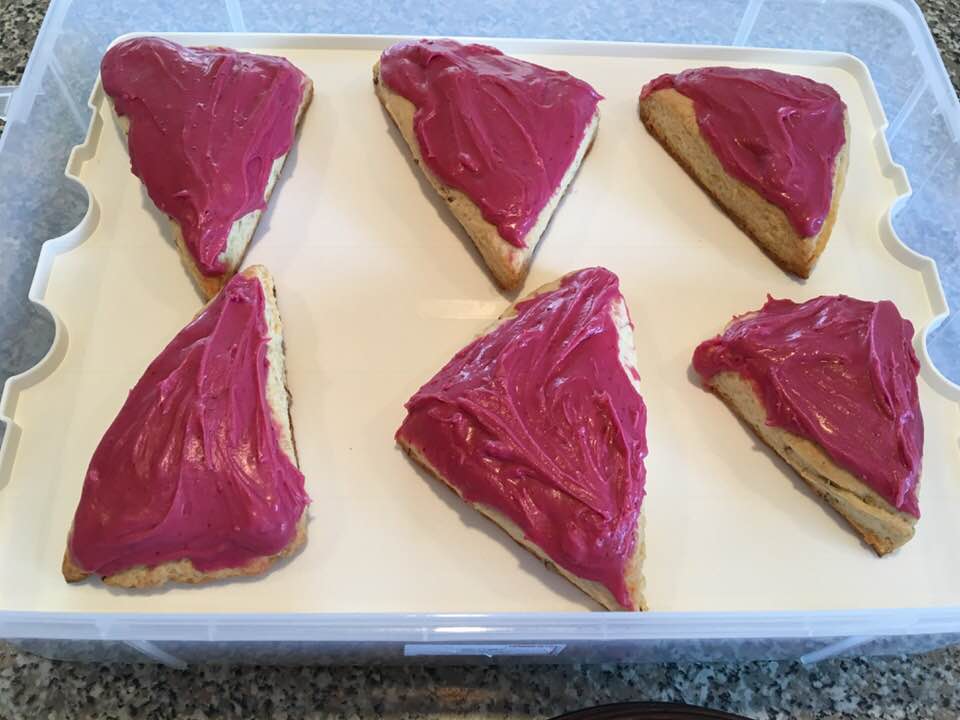 Huckleberry Scones!
The base recipe I use is from The Pioneer Woman, but I have altered the recipe a little bit to make it my own.  The original recipe makes very large and thick scones.  It really was just way too much scone for me to have in just one sitting.  The recipe for the icing also made too much so I cut that in half as well.  My resulting recipe is below.
Huckleberry Scones

The scones are firm and golden on the outside, but soft and nutty on the inside. Top with huckleberry icing to add a real wow to these scones!

Serving Size
8-12 servings
Notes
There will be additional time needed for cooling.

Ingredients
Scone Part
3 cups all-purpose flour
1/3 cup sugar
5 teaspoons baking powder
1 teaspoon salt
1/2 pound (2 sticks) unsalted butter, chilled
1/4 cup pecans, finely chopped
1 large egg
3/4 cup heavy cream
Scones icing
1 cup huckleberries
1/2 pound powdered sugar
2 teaspoons butter, melted
Dash of Salt
1 teaspoons vanilla extract
a splash of milk (only if needed)
Instructions
Scone Part - Preheat oven to 350 degrees. Stir together in a large bowl the flour, sugar, baking powder, and salt. Cut the cold butter into small pieces. Cut butter into flour mixture with a pastry blender or two table knives until the mixture resembles crumbs. Add the chopped pecans to the flour mixture and stir them in. Add the egg and cream to the bowl. Stir together until just combined. Turn the mixture out onto a cutting board. The dough may be crumbly. Cut dough in half. With your hands, gently push half of the dough together to make a circle. Then, with a rolling pin, roll the dough out gently into a circle about 9 or 10 inches around. With a sharp knife or a pizza cutter, cut the circle into 8 wedges.
Do the same thing with the other half of the dough and cut into another 8 wedges. Transfer the wedges to two greased baking sheet. Bake for 15 minutes or until they are just barely starting to brown. Allow the scones to cool completely before icing.
Icing part - In a small saucepan, cook 1 cup of huckleberries over medium heat for 10-15 minutes. Huckleberries will release a good amount of their juice. Using a fine mesh strainer, pour cooked huckleberries into the strainer and collect the huckleberry juice in a small bowl underneath the strainer. Gently press whole huckleberries in the strainer with the back side of a spoon to get any residual juice. In a medium mixing bowl, put in powdered sugar, melted butter, salt, and vanilla extract. Gradually pour in the huckleberry juice. Stir. Continue adding juice until icing is spreadable consistency. Add milk if more liquid is needed. Spread generously over the scones. Allow the icing to set before serving or storing.
© 2023 Copyright
Are you interested in another scone recipe on my blog?  Check out Cranberry Almond Scones.