Jump to recipe
I love the Pioneer Woman.  One of the recipes in her cookbook is for Maple Pecan Scones which are to die for.  After I made them, my mind began to wander onto other possibilities for the scones.  I decided to tweak the original recipe, and instead of the maple and pecans, I decided to try cranberries and almonds.  They turned out delish!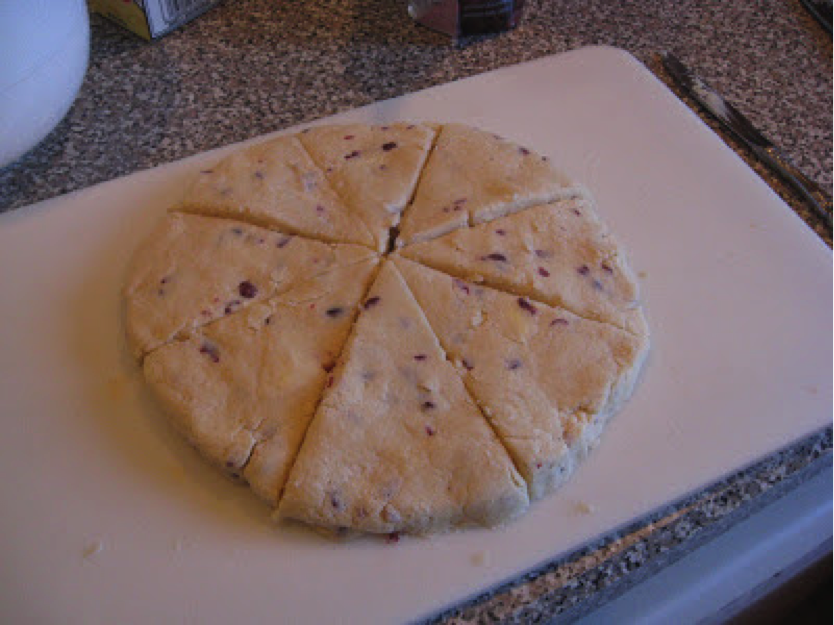 Yumminess awaits!
Cranberry Almond Scones

These scones are packed with cranberries and crunchy almonds.

Serving Size
8-12 servings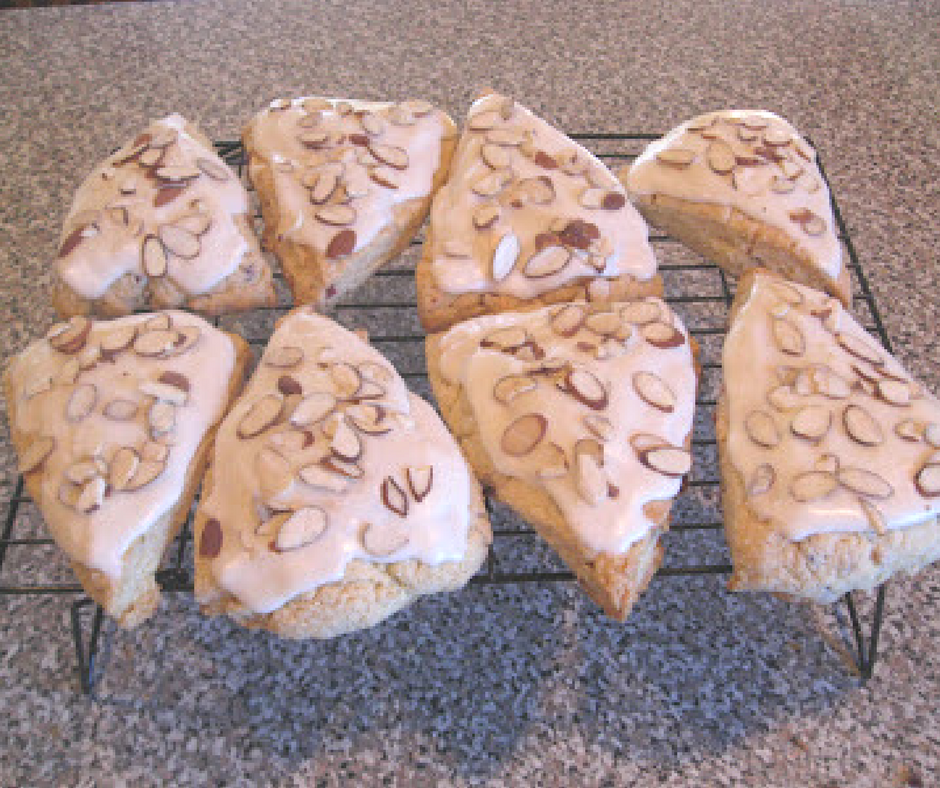 Notes
Additional time needed for cooling.

Ingredients
Scone Part
3 cups all-purpose flour
1/3 cup sugar
5 teaspoons baking powder
1 teaspoon salt
1/2 pound (2 sticks) unsalted butter, chilled
1/3 cup dried cranberries, chopped
1 large egg
3/4 cup heavy cream
Icing Part
1 pound powdered sugar
1/4 cup milk
4 teaspoons (1/2 stick) butter, melted
Dash of Salt
2 teaspoons almond extract
Topping Part
Sliced almonds to sprinkle on the top (about 1/4 cup)
Instructions
Preheat oven to 350 degrees. Stir together in a large bowl the flour, sugar, baking powder, and salt. Cut the cold butter into small pieces. Cut butter into flour mixture with a pastry blender or two table knives until the mixture resembles crumbs. Add the chopped cranberries to the flour mixture and stir them in. Mix the egg and cream together and add this mixture to the bowl. Stir together until just combined. Turn the mixture out onto a cutting board. The dough will be very crumbly. With your hands, gently push the dough together to make a circle. Then, with a rolling pin, roll the dough out gently into a circle about 10 inches round and 3/4 inches deep. With a sharp knife, cut the circle into 8 wedges. Transfer the wedges to a large, greased baking sheet. Bake for 22-26 minutes until they are just barely starting to brown. Allow the scones to cool completely before icing. In a medium mixing bowl, stir the icing ingredients until smooth. Pour generously over the scones and sprinkle icing with sliced almonds. Allow the icing to set before serving or storing.
© 2023 Copyright
These are really very easy to make and are always a hit at our house.  I can't think of too many other things that would be so delicious with coffee, either!