Jump to recipe
I know this might sound a little odd.  Cornbread and salad together?  As weird as it may sound, it is one of my most favorite summertime dishes.  There is nothing like it for a potluck, barbecue, or a cold salad to have for lunch by the pool.  Been there, done that!
Cornbread Salad

A cool summer salad with lots of textures and tastes to make your taste buds explode.

Serving Size
8-12 servings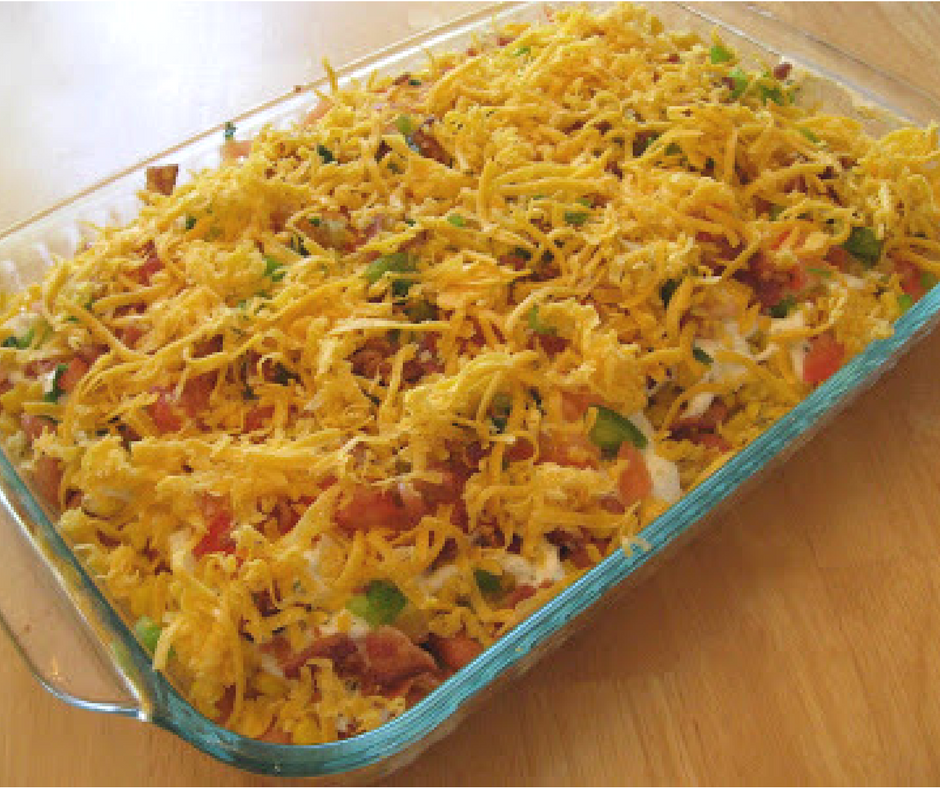 Notes
Additional time will be needed to chill for 2 hours.

Ingredients
1 package (8-1/2 oz) cornbread/muffin mix
1 can (4 oz) chopped green chilies, undrained
1/8 teaspoon ground cumin
1/8 teaspoon dried oregano
Pinch rubbed sage
1 cup mayonnaise
1 cup (8 oz) sour cream
1 envelope ranch salad dressing mix
2 cans (15 oz each) pinto beans, rinsed and drained
2 cans (15-1/4 oz each) whole kernel corn, drained
3 medium tomatoes, chopped
1 cup chopped green pepper
1 cup chopped green onions
10 bacon strips, cooked and crumbled
2 cups (8 oz) shredded cheddar cheese
Instructions
Prepare cornbread batter according to package directions. Stir in the chilies, cumin, oregano, and sage. Spread in a greased 8 inch square baking pan. Bake at 400 degrees for 20-25 minutes or until a toothpick inserted near the center comes out clean. Cool. In a small bowl, combine mayonnaise, sour cream, and dressing mix. Set aside. Crumble half of the cornbread into a 13 X 9 inch pan. Layer with half of the beans, mayonnaise mixture, corn, tomatoes, green pepper, onions, bacon, and cheese. Repeat layers. Dish will be very full. Cover and refrigerate for 2 hours.
© 2023 Copyright
TIP
My tip for this recipe is to make it for a crowd or a potluck, because it makes a lot.  It also holds up well and stays tasting good for several days.  The recipe is not hard, but a little bit time consuming with all of the chopping, making the cornbread, and frying the bacon.  The end result is so well worth it though.
Are you interested in another really great salad to bring to a potluck?  This Spinach Tortellini Salad is always a huge hit, and I always get asked to share the recipe.  Whichever salad you choose, I hope you enjoy!