Jump to recipe
I remember being a kid and riding in the car with my daddy in Mississippi.  The delta.  A place where the land was flat and stretched out before you as far as your eyes could see.  On those trips, there would be an occasional dead armadillo on the side of the road.  The white fluff of cotton at harvest time would cover both sides of the road and sometimes drift in the wind.  And then, there were always the rows upon rows of pecan trees.
I truly love this nut.  It reminds me of Mississippi, my grandma and the south.  I also love a pecan pie, and I believe chocolate makes that even better.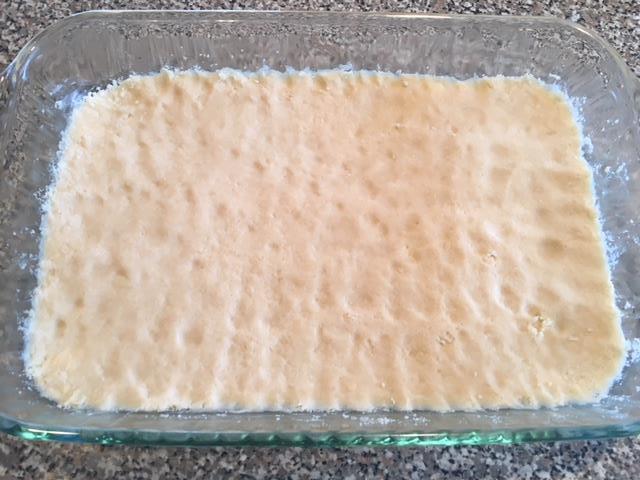 The yummy shortbread style crust!
Here is a recipe which I have created, because I have added parts of different recipes which I love to make these bars.  I hope you enjoy it as much as I do!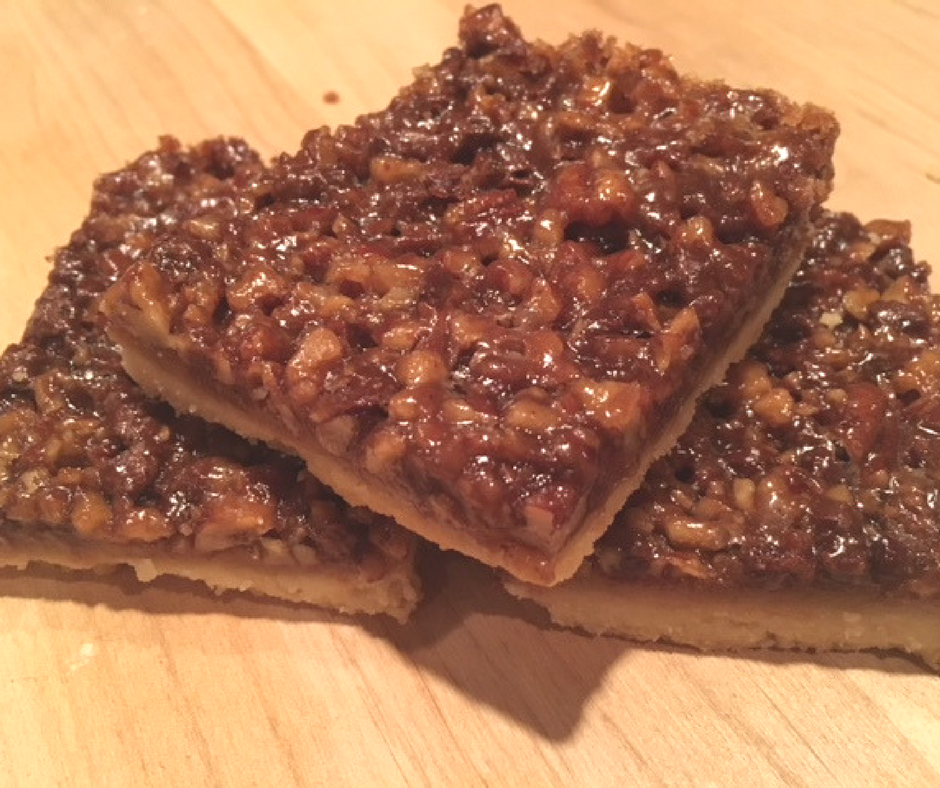 Ingredients
For the Crust
2 cups all purpose flour
1/2 cup powdered sugar
3/4 cup salted butter
For the Topping
1 stick (1/2 cup) unsalted butter
1 cup packed light brown sugar
1/3 cup honey
2 tablespoons half & half or heavy cream
2 cups chopped pecans
3/4 cup mini-chocolate chips
Instructions
For crust, mix flour and powdered sugar together. Cut in butter using a pastry blender until crumbly. Spoon mixture into a 13 x 9 inch greased baking dish. Press down firmly and evenly along the bottom of the pan using fingers. Bake at 350 degrees for 20-22 minutes or until crust is light and golden brown.
Once crust is done, set aside and begin making the topping. Add the butter, brown sugar, honey and half & half to a medium saucepan over medium heat. Simmer the mixture for 1-2 minutes. Stir in the pecans. Spread the mixture over the entire surface of the crust. Sprinkle mini-chocolate chips evenly over the top of the pecan pie mixture.
Return the pan to the oven and continue to cook at 350 degrees for another 20 minutes. Remove the pan from the oven when done and cool on a cooling rack.
Cool completely. Cut into bars. Makes 15-20 bars.
© 2023 Copyright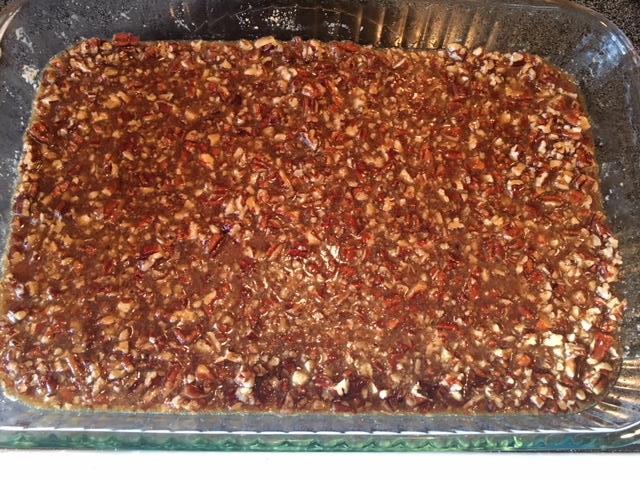 The ooey gooey pecan mixture!
I hope you enjoy these yummy treats.  You can also cut them into diamond or triangle shapes to serve at a ladies event which is fun, or cut them into large squares for pure indulgence!
Enjoy,
Andrea
Copyright 2018, The Cross Eyed Blog, LLC